Principles-Focused Evaluation
Guests: Michael Quinn Patton, Sharon Benjamin and Maurya West Meiers
This PlexusCall was held on Friday November 3, 2017
View video recording of the event on YouTube.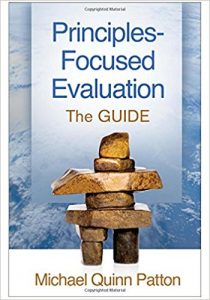 Michael Quinn Patton's most recent books are Principles-Focused Evaluation (Guilford, 2017), and Evaluation Facilitation (Sage, 2018). He is a multi-disciplinary and internationally known scholar who has written eight books on evaluation. He and experienced organizational consultant Sharon Benjamin will discuss his work on principles-focused evaluation.
Michael Quinn Patton is an independent organizational development and evaluation consultant. He is former President of the American Evaluation Association. He received the American Evaluation Association Award for Research on Evaluation in 2017 recognizing the breakthrough nature of his work. He previously received the Alva and Gunnar Myrdal Award from the Evaluation Research Society for "outstanding contributions to evaluation use and practice" and the Paul F. Lazarsfeld Award for lifetime contributions to evaluation theory from the American Evaluation Association. The Society for Applied Sociology honored him with the 2001 Lester F. Ward Award for Outstanding Contributions to Applied Sociology.
Sharon Benjamin, PhD, is a prac-ademic. She helps organizations marry classic quality improvement and organizational change methodologies with emergent technologies such as Adaptive Positive Deviance (APD) and Liberating Structures, which are rooted in complexity science. She has been an adjunct in the New York University Executive MPA program for 12 years and also teaches in the Organizational Dynamics program (MSOD) at University of Pennsylvania.
Maurya West Meiers has worked as an evaluator and evaluation capacity development expert in international development for 18 years. She is a senior evaluation officer at the World Bank's Independent Evaluation Group (IEG), working on methods and evaluations.  Much of her work has centered on monitoring and evaluation capacity building and needs assessment.  She is a co-author of the 2012 book, A Guide to Assessing Needs: Essential Tools for Collecting Information, Making Decisions, and Achieving Development Results. The book, which features 24 facilitation tools and techniques for monitoring and devaluation activities, is one of the top 30 downloaded books from the World Bank.  As a World Bank employee, she has provided advisory services to government agency employees across a range of areas and sectors, including municipal services, infrastructure projects, primary and secondary education, social protection, and health.