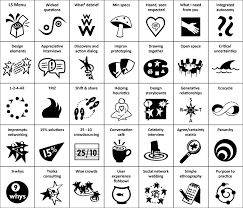 Plexus Institute has been the incubator for an impressive flow of research and applications centered on addressing "complexity" in organizations and human system. Keith McCandless and Henri Lipmanowicz  began working as partners to develop Liberating Structures when they shared a hunch that complexity science had practical applications and could be accessible to everyone.  Keith's interest in transformational learning and planning methods clicked with Henri's business acumen as they fielded early prototypes. Over twelve years, their work has grown into a powerful repertoire for people making change.  They have cut across academic disciplines, tapped spiritual practices, roamed the planet, and deepened scientific insights along the way.
The Liberating Structures App is the newest tool for using Liberating Structures and we wanted the Plexus community to be among the first to use it! The App is free and can be downloaded from the Apple App Store or Google Play by searching for Liberating Structures.  We invite you to download and try it out prior to the call!
Join us on Friday November 17, 2017 for a PlexusCall on the continuing influence of Liberating Structures.
Friday, November 17, 2017
1 PM – 2 PM ET
Guests: Henri Lipmanowicz and Keith McCandless
PlexusCalls are now on Zoom. No need to sign up in advance. To join the PlexusCall at 

1 PM ET

, 

10 AM PT

, click on the following link in your web browser or mobile device. 
https://zoom.us/j/151359911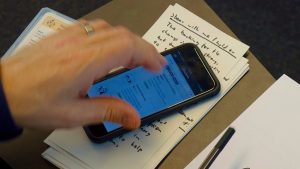 The app was created by a small group of inspired people with a compelling purpose. Two members of the LS User Group – Johannes Schartau and Melanie Wallintin – shared with Keith McCandless the backstory and dreams for the app, also fondly nicknamed LiSA (Liberating Structure's App).
"The inspiration to get started with the app development came to me while sitting at Henri's table and hearing his brilliant ideas," shared Johannes. The two had been discussing
 the future of LiberatingStructures and agreed that an app could serve as an ideal method for sharing LS with the world. Melanie, a colleague of Johanne's at Holisticon, volunteered to join the venture after experiencing the power of LS in her daily work; "I had been using the structures without knowing it and experienced how our meetings transformed." When Melanie discovered that LS was behind their team's effective way of organizing, she eagerly sought out more. "The structures themselves are simple and easy to use…. I volunteered because I want to enable everybody to learn to use them too." Fellow colleagues Dennis and Claudia, also joined the venture, and with support from Henri and Keith, they each invested their spare time to develop LiSA.
The team was driven by a shared purpose to spread LS far and wide, and deepen existing LS practitioner's repertoires. Anyone else spot the wicked question? Rather than let these paradoxical forces hold them back, the team worked in rapid cycles to identify personas, ideate on features, and create a backlog of possible developments. "The most challenging twist was structuring the millions of ideas we had in mind and agreeing on a first release," shared Melanie. In addition, "the app users we identified were extremely different: they had different needs or concerns, and this made the design for the app quite difficult."
They decided to put focus on developing features that spoke to- and addressed- the needs of new LS users around the world. (Pssssst! The next release will offer LS in multiple languages, hoorah!) For now, the app serves as a simple and clean introduction to LS and a go-to resource for new users who want to quickly check the mechanics behind a structure before starting a meeting. The team continues to refer back to their extensive backlog of features, many of which have the potential to help more avid users take their methodology to the next level. "One feature I am most excited about is building strings. When complete, this is going to be amazing. I hope and believe the app will become the tool for people to access and play with Liberating Structures anywhere in the world," shared Johannes "and a valuable support for all experts!" added Melanie.
Henri Lipmanowicz retired from Merck in 1998 after a 30-year career during which he progressed from Managing Director in Finland to President of the Intercontinental Region and Japan (The world minus the US and Western Europe) and a member of Merck Management Committee. In 2000 Henri co-founded the Plexus Institute and served as Chairman of the Board until 2010.Born in Carcassonne, France, Henri holds a MS degree in Industrial Engineering and Management from Columbia University and a MS degree in Chemical Engineering from France. His career gave him the opportunity to live in seven countries and made him a perpetual world traveler. He resides in the US with his Finnish wife, Riita. Their joy in their seven grandchildren is beyond their wildest expectations. While in France he drives around in a 1961 2CV Citroen.
Keith McCandless led executive learning initiatives for the Health Forum (HF) in San Francisco, where he was responsible for working with field-based learning collaboratives focused on market strategy, systems thinking, quality management, creativity, rapid prototyping, and transformational leadership. He managed education and research efforts from 1992 to 2002. Keith is founding partner of the Social Invention Group since 2000. His eclectic skills are grounded in organization development, complexity science, business strategy, and graphic facilitation—all with an improvisational twist. Earlier, Keith founded and served as the executive director of the Foundation for Health Care Quality in Seattle. The foundation brought together business, academic, & health leaders in a unique partnership to improve quality and value in healthcare.Born in Cincinnati Ohio, he holds a Masters in Management of Human Services from Brandeis University in Boston and a BA from Evergreen State College in Olympia, Washington. Keith lives in Seattle with his wife Annie.