Frederic Byarm earned a culinary degree and trained in France, became an acclaimed chef, and owned four restaurants. He earned lean and Six Sigma Black Belt Certifications in manufacturing, and he has worked at an Arizona non-profit designed to serve homeless and impoverished individuals and families. Returning to Camden, where he grew up, Byarm plans to open a farm and market place that will provide fresh food and new jobs in his hometown.
Byarm's Invincible City Farms took first place in the Camden Catalyst entrepreneurial pitch competition, which drew more than 100 applicants who commit to keep their start-up businesses in Camden for at least three years and promise that at least half of their employees will be Camden residents. Camden Catalysts is a community organization supported by local business, healthcare and corporate partners.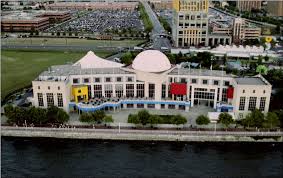 Invincible City Farms plans to grow organic fruits and vegetables on a 20 acre plot of land at the Camden Waterfront, which is in the process of a $1 billion redevelopment that will include construction of a new American Water headquarters as well as new restaurants and housing. Byarm's vision is to change Camden's status as an urban food desert and provide work for people who grow, harvest and market the fresh produce. The first prize included $25,000, a year of space at co-working and community center Waterfront Labs, and start-up services, according to a story by Michelle Caffery in the Philadelphia Business Journal.
Byarm's experience makes him aware that changing eating habits requires more than just making fresh food available. In a JerseyBites story by Christina Carrell, he explains that many Camden residents associate the notions of nutritional and organic food with affluence. He recalls hearing a young girl at a Camden neighborhood center comment, "Healthy food? That's for white people." He wants to provide experiences that change such ideas.
The other entrepreneurial competition winners who will open shop in Camden are:
Denial Flow: a management system for denied health care claims, founded by Robert Rupp, a Temple University MBA, and software developer, who has five years experience in healthcare billing. His system uses automated rules, workflows and reports.
Engageathon: software platform with tools to improve community engagement while tracking, monitoring and rewarding community involvement. Veniece Newton, a Camden native who is Engageathon's founder and CEO , has 20 Years experience in community engagement and workforce development.
Linked Noodle: a community platform connecting local teachers to students interested in skills development. Katrina Naidas, co-founder and CEO, is a Rutgers Camden alumni who founded the startup to share her love of writing, dance, music and art.  See brief sketches of the winning entries here.