Visualizing and drawing can help us think and communicate, especially when it comes to complexity. Amanda Lyons, is a visual practitioner. "I was excited to find complexity as I could see the amazing impact visuals can have in complex situations. Whether trying to understand something deeply myself or communicate it with others, visuals are my vehicle of choice."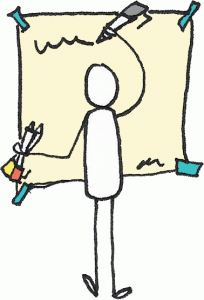 Amanda is a Plexus Catalyst, and her work brings an important new perspective to how we engage with complexity. Visuals allow Amanda to see juxtapositions and hold oppositions in ways that allow her to understand and see more.
According to Amanda, "Drawing is this amazing tool that integrates into our complexity practices as part of a process and  can bring our work to the next level. Using drawing inspires us to share our thoughts with someone to get their reaction. Conversation and dialogue can bring about new insights and add perspectives to what we know. Visual representations allow each observer to carve their own path within the subject matter – to wander around in it. This is one way that visuals lend themselves well to complex systems in that they can be understood in many ways creating a more generative output. "
Fellow Plexus Catalysts Barb Siegel and Amanda will  be sharing a series of blog posts to explain why using visuals, and specifically the act of drawing by hand, can help you hone your communication skills – especially in complex spaces.  Watch for #plexusdrawn posts and on social media.