Committed to Sharing Knowledge & Insights
A hallmark of Plexus Institute for nearly 20 years has been the hosting of formal and informal conversations and the publication of research, papers and stories focused on applied principles of complexity across the professional, scientific and academic fields.  Sharing relevant knowledge and insights encourages learning about complexity while fostering critical new conversations, new stories and new knowledge for members of the Plexus network.
Beginning in 2006, PlexusCalls offered live online conversations where anyone could listen to, learn from, and ask questions of leading thinkers, researchers, and practitioners working to influence and lead change in the most complex and challenging situations. Hundreds of recorded and archived PlexusCalls are available in our curated resources.
Plexus Institute's long standing commitment to network engagements demonstrated through regularly scheduled formal and informal conversations, discussions and presentations that link network members to other people, organizations and communities who have a passion for thinking about and practicing applied complexity.  In addition to an extensive resource library, Plexus continues to publish newsletters, blogs, articles, peer reviewed papers and cases.
Adding to the wealth of content at Plexus, newly published Catalyzing Stories share new reflections and a wide variety of insights about the evolving experience, practice, application and management of complexity in organizations and larger systems. The upcoming launch of ComPlexus Podcasts will bring back many familiar and introduce new complexity thinkers in a series of podcasts that tackle the growing implications of complexity in the third decade of the 21st century.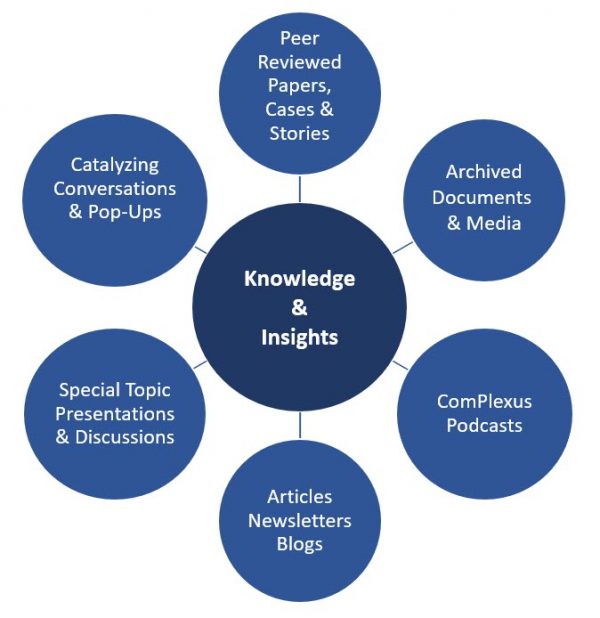 Catalyzing Stories & Conversations
Plexus Institute continues to publish a wide range of content, from short posts to more in-dept papers, which offer new opportunities for engaging with how the principles of complexity and complex adaptive (human) systems influence the environments in which we live and work. Recently published Catalyzing Stories present the author's diverse experiences and reflections of how the implications of complexity changed outcomes in their work and thinking.
ComPlexus Podcasts is the newest addition to Plexus Institute's Catalyzing Conversations that explore complexity thinking today. Plexus Board member and thinker/author/teacher/practitioner Bruce Waltuck will be hosting this new initiative.
Plexus regularly offers special topic discussions and presentations with Plexus Network members and partners, which includes everything from book discussions to new research and practices of complexity in organizations. Pop-Up Conversations, offered on Zoom, are informal calls that have ranged from early stage concept sharing to impromptu working group sessions.