Working with Liberating Structures
Plexus works with change agents across diverse industries, fields and organizations to introduce and use Liberating Structures – easy-to-learn, adaptable methods for engagement. These powerful and adaptive "mini-processes" make it quick and simple for groups of people of any size to radically change how they interact and work together, and significantly influence how they address issues, solve problems and develop opportunities.
The Liberating Structures App is the newest tool for using Liberating Structures and we wanted the Plexus community to be among the first to use it! The App is free and can be downloaded from the Apple App Store or Google Play by searching for Liberating Structures.
Plexus Institute collaborates with client organizations in a variety of ways including:
Consulting on the design and facilitation of meetings and events
Intensive workshops in organizations
Action research
Liberating Structures have received the same positive response in a wide range of cultural environments in Latin America, Europe and the US. Some of the methods will be very familiar to many practitioners – such as Open Space and Appreciative Interviews. Others, like Positive Deviance and TRIZ, may be new to you.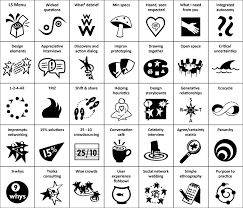 We have selected the following resources to begin your exploration of Liberating Structures.
Liberating_Structures, Lisa Kimball
Liberating_Structures,_Lipmanowicz_and_McCandless
The Surprising Power of Liberating Structures: Simple rules to unleash a culture of innovation, 
Lipmanowicz, H., & McCandless, K. (2014).
Practicing Liberating Structures in Healthcare   Cabin Creek Health Systems- a group of community health centers in rural West Virginia partnered with Plexus to modify organizational practices. More projects have been sustained and the staff has been happier and more productive.
"Partnering with the Plexus Institute has helped us engage and learn from our staff and brought us both theory and practices that help our health center to be a better a better place to work and to better serve our patients. Our Plexus friends do not try to transform us or get us to implement a best practice, but they do help us to understand the realities of organizational life, of relationships, motivation and making changes. They also remind us that our job is fundamentally about expanding social justice. Our relation with Plexus has educated and challenged us in ways that impact us daily, has expanded our friendships and connections and made our work more fun. You cannot ask for more from a partnership."
Craig Robinson and Amber Crist, Cabin Creek Health Systems