Embrace the Knowing of Complex Change
The Awarefulness Project began as a s a high engagement, experiential practice for working in complex human systems. By understanding and embracing complexity thinking, you can develop and influence the conditions for systemic change – change that occurs through applying new skills and actions in your everyday systems.
Plexus Catalysts Denise Easton, Amanda Lyons, and Barb Siegel designed this as an integrated technique and practice that guides individuals and teams to experience and create innovative, empathetic and high performing team engagements.
The program is immersive, experiential and collaborative with weekly live video sessions, a downloadable, visual notebook / journal that is created for and by the cohort, usable exercises, and resources for building a foundation in complexity thinking. Most importantly, you will bring and build connections and insights that shape both the process and experience of the program. Attending all live sessions is strongly encouraged.

Program Schedule: 
Project Phase 1 – Designing and Connecting Group Awarefulness – Live sessions are held on  January 8th, 16th, 24th
Pause –  Individual/Group Project, Optional informal sessions January 29th, February 5th
Project Phase 2 –Live sessions are held on February 12th, 19th, 26th
Pause – Self-Organizing – Pre-Workshop sessions TBD
Project Phase 3 – March 9th – One Day Workshop
There will be seven live sessions, asynchronous conversations for both self and community exploration between live sessions and guided exercises and optional, informal, online meetups).  You will walk away with cohort connections, usable exercises, visuals created by us for you, visuals you've created throughout your learning experience, access to all live session recordings and an interactive, downloadable, visual notebook / journal.
Each cohort limited to fifteen participants.  The workshop is experiential and collaborative; attending all live sessions is highly recommended.
While we include drawing throughout the workshop, no experience in visual scribing or drawing is required.  Many visual practitioners will be unfamiliar with this technique so they will also be beginners.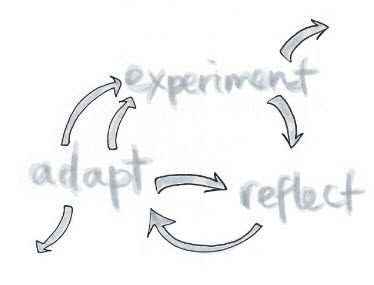 You will focus on:
Developing a foundational understanding of complexity thinking in everyday systems
Exploring the flow and process of "ideas to action" from the embodied brain to the shared social mind
Integrating the practice of a visualization discipline with existing models, tools and skills.
Cultivating generative dialogue and new communication techniques for group engagement and project initiatives
The Awareness Project is designed to develop new skills that can be applied immediately.  The structure and content of this program is responsive to the participants in the program. Core knowledge in Complexity Thinking, Visual Engagement and Adaptive Practice serves as the framework for the content and online resources, but the live video sessions are where insights, learning and co-creation emerge.