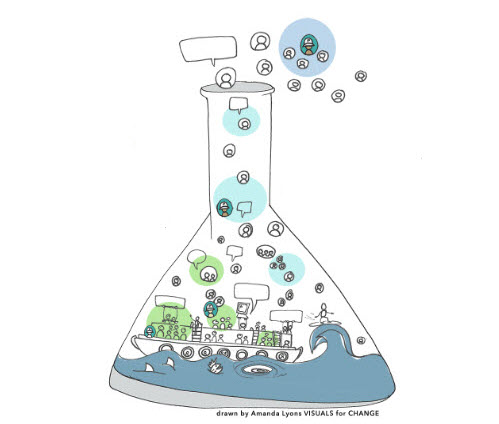 The Awarefulness Project
Drawn to Connect Workshop
Drawn to Connect is a high engagement, experiential learning workshop. designed to guide learners through a new way to communicate while developing awareness and skills to practice Complexity Thinking. The program is offered in both online and in-person, and can be customized for specific client needs.
Drawn to Connect focuses on developing:
Understanding of complexity thinking in everyday systems
Awareness of the flow of ideas from the embodied brain to the shared social mind
Visual engagements for complexity thinking
Adaptive practices for group and project initiatives
You will walk away with connections, usable exercises, and an interactive, downloadable, visual notebook / journal. The online version offers four live sessions, asynchronous conversation and both self and community exploration (i.e. guided exercises and optional, informal, online meetups) between live sessions. Learn More
The Complexity Lens – eCourse
The Complexity Lens is a primer on the frameworks, insights and applications emerging from fields of complexity theory, behavioral science and human systems. The Complexity Lens offers a different perspective on how to see, understand, and influence organizations and communities from large global enterprises to small groups. This six-module, self-paced online program is delivered on an interactive Flash-based course platform available for access anytime from anywhere. The program content includes rich media recorded presentations, exercises, and electronic resources. Learn More
Adaptive Positive Deviance
Adaptive Positive Deviance (APD) focuses on enabling communities and organizations to discover their collective wisdom through inquiry, small experiments and actions for change. APD is led by the people in the community who are most directly influenced by existing challenges and emerging opportunities.
Plexus has been a leader in developing and applying the principles of APD in projects across the fields of education, healthcare and organizational resilience. The new Plexus book, Unexpected Gifts: Solve Tough Problems with Adaptive Positive Deviance, combines insights from complexity science theory and the understanding of systems with practical examples of how APD has been applied in multiple fields. The cases and resources offered here are just a few examples of Plexus' collaborative work with Adaptive Positive Deviance. Learn More