Expertise for Understanding & Working with Complexity
Find the expertise and creative insight you need in the Plexus Network, an affiliated group of invited professionals, who can deliver a wide range of strategic, developmental and change management services for organizations, institutions, businesses and communities. Our professionals brings a unique combination of  expertise in academic and traditional fields with experience in the application and practice of complexity informed theory, research, practices and models.
Plexus Institute collaborates with clients, partners and global organizations in a variety of ways including:
Incubation of complexity based projects and research initiatives
Design and facilitation of  complexity practice based programs/workshops in organizations
Design and implementation of action research projects
Change management practices for organizations and institutions
Consortium based joint research and project management
The expertise to think about and apply principles of complexity to challenges and opportunities in complex human and organizational systems has led to the development of models, applications. tools and practices that have helped clients, partners and collaborators integrate essential perspectives and approaches into existing projects, work and systems.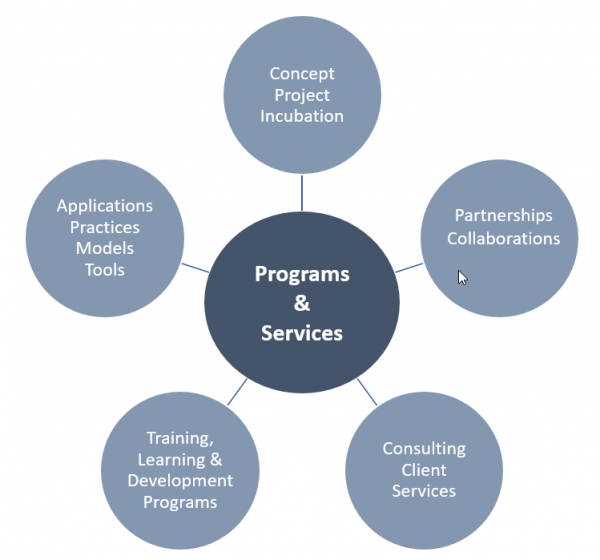 "The real expertise of Plexus Institute's Network Members and Consultants is not determined by their execution of tools, or understanding of theory but in how they design the intervention, how they demonstrate mastery in holding and dancing with intentional ambiguity."
A high engagement, experiential practice that focuses on a team or organization's ability to quickly develop and use new skills to accelerate the exchange of knowledge, ideas, and experiences for improved performance and efficiency.  Learn More
Change Management in complex organizational systems requires an interdisciplinary approach to designing, implementing and managing change initiatives. Learn More
Adaptive Positive Deviance is a facilitated model for engagement and change that focuses on enabling communities and organizations to discover and use their collective wisdom through inquiry, small experiments and adaptive practices. Learn More
Liberating Structure is an easy-to-learn tool set or "mini-processes" that focus on group engagements. Applicable in any size group or organization, LS can change how they interact, address issues, solve problems, develop opportunities. and work together. Learn More
The Commons initiative is developing an interdisciplinary approach for collectively evaluating, addressing and valuing 21st-century health and environmental challenges through an open source platform. Learn More