STRETCH your CREATIVITY Workshop
October 12, 2018

-

October 14, 2018
An experiential workshop to notice complexity inherent in our thinking, moving and creating. Self reflection meets yoga meets nature meets art – the kind of art that's accessible to everybody, not just self proclaimed artists.
stretch your body. stretch your mind. stretch your creativity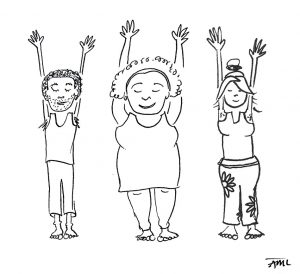 What's one way you can stretch your mind today? Maybe wear your belt backwards or walk into a meeting with curiosity instead of anticipation of the weekend? Change something up. YOU STRETCH YOUR MIND WHEN YOU CHALLENGE YOUR OWN ASSUMPTIONS, REFLECT ON THE WAY YOU THINK AND DO + MAKE A SMALL SHIFT IN YOUR HABITS. Sounds simple, right? Ha! It takes lots of experimenting with new ways before we find what's right for us.
This is what the STRETCH workshop is all about! Illuminate the ways you think, move and create so you can clarify what works best for you. You bring you. We bring the rest.
in Wallkill, NY at a family farmhouse
DETAILS + REGISTRATION:
https://www.visualsforchange.com/stretch
Share This Story, Choose Your Platform!