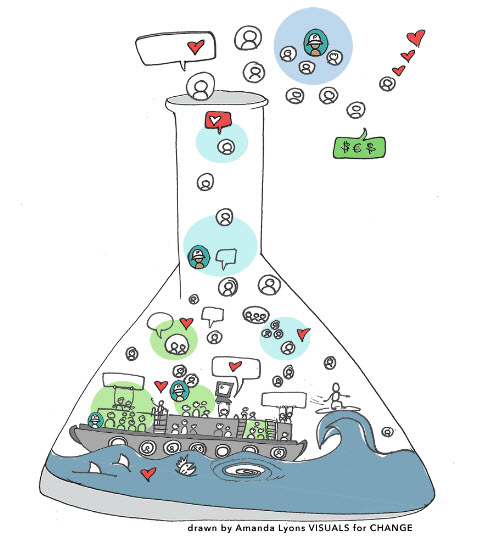 Network Catalysts and members are working together to develop and launch projects that change the status quo. 
Project Circles are organized around a wide range of network initiatives and activities that explore and apply complexity thinking to addressing challenges and opportunities in complex systems.  
Projects in Development
The Commons -Catalyst Mike Taylor has launched a healthcare focused project, called "The Commons" where 21st-century health challenges can be evaluated and addressed through a technology driven platform that invites an interdisciplinary and experimental practice free of constraints inherent in traditional disciplines and professions.  Learn More
The Complex Nature of Outcomes Management – A Book Project – Plexus Catalyst Marc Narkus-Kramer is leading a collaborative book project that shares case examples and stories to expand the body of knowledge of integrated outcome management and complexity theory practices. Learn More
Drawn to Connect – Catalysts Amanda Lyons, Barb Siegel and Denise Easton have developed a learning and practice program that integrates Complexity Thinking, Visual Engagement and Adaptive Practice. Learn More
---
Projects in Practice
These projects have been successfully launched and continue to evolve through practice by Network members and Partners.
Adaptive Positive Deviance is an approach to social change that enables communities and organizations to discover the wisdom they already have, and then to act on it.  Learn More
Adaptive Leadership in Organizations integrated the Starfish model in a highly interactive and experiential programs for leaders incorporating new adaptive strategies for change and growth. Learn More
Liberating Structures are easy-to-learn, adaptable methods for engagement. These powerful "mini-processes" quickly engage groups of people of any size to radically change how they interact, address issues, solve problems, develop opportunities. and work together. Learn More
If you are interested in the work of the Plexus Network please contact us!