Thinking about Complexity in organizations, big and small, is how the Plexus Network is addressing real-world challenges.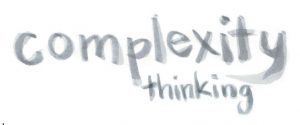 Accepting the implications of complexity means giving up the comfort of defined outcomes for the groups we work with, even though definitive solutions were never possible in complex adaptive systems. We continue to focus on the understanding, advancement and diffusion of ideas and practices rooted in the principles of complexity.
What we do know:
Change is the only constant
Our actions and choices really do make a difference in the short and long term
Our individual welfare is dependent on the welfare of others in the system
The purpose of answers to our questions is to generate better questions
These are the complex challenges and opportunities that deserve the insights of  Plexus "Thinkers" who are well positioned to engage with the plethora of models, theories, and still emerging thoughts about complexity science and human systems.
Making this rich harvest of human thinking, innovation and sense making widely accessible is part of our way-finding journey. An important role of the Plexus Network is to hold the history of this journey in stories we are creating.