Consider becoming a Plexus Catalyst!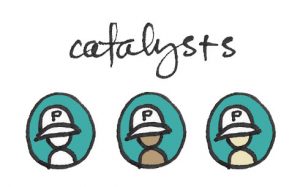 Catalysts are self-organizing leaders who initiate, influence and coordinate the key clusters and emerging projects in the network.
Becoming a Plexus Catalyst means being part of a self-organizing network of colleagues committed to give and get value through collaborating and sharing ideas, experiences, and projects influenced by complexity. Catalysts have the opportunity  to influence the activities of Plexus by shaping agendas, creating networks, sponsoring workshops, and starting  initiating projects .
Additional benefits include:
Connections with other Catalysts projects and activities
Listing in an Professional Directory
Participation in special initiatives and the opportunity to submit your own work for inclusion in Complexity Matters and other publications that explores complexity-related topics in depth
Access to models and programs developed in the Plexus Network
Referrals for projects through the Plexus Network (a percentage of project fees remain with Plexus for administrative and operational expenses)
Support for project grant applications and external funding
Contact us for more information admin@plexusinstitute.org